Since Too Faced was having a 30% off sale I need this!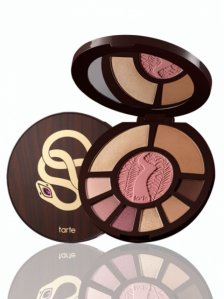 Rainforest After Dark
colored clay eye & cheek palette - absolutely love these colors and they can be worn all year long.
Colors:
bare to explore (pink beige)
make a mauve (plum mauve)
plum away with me (dark plum)
up to no gold (gold)
tan-gled up in you (tan)
don't turn a-brown (dark brown)
unleashed (nude rose blush)
champagne (highlighter)
park ave princess

(bronze)
I have had my eye on this for months and now the price is right!
Formulated without parabens, mineral oil, triclosan, soldium lauryl sulfate and phthalates
I also ordered Brazilliance set of 5 self-tanning face towelettes
for quick bronzing. Many times I don't need additional face make up.
and lip facial lip scrub.
I will not buy the lip facial again - it is very rough & scratchy - it does what it should but it could be a little more delicate - but I will keep it.
With 30% off, I can't go wrong! After all, I have a birthday coming up so why not celebrate early!
I must say I do not like the shipping options from this company - they will not send packages to a PO Box - my house is at least a 1/4 mile from the road so I don't feel like packages are safe, as I cannot see when the mail carrier arrives and they will not bring it back to the house. It seems we pay more and get less service.
I love this time of year because Pantone gives us a forecast of seasonal colors.
Pantone's Colors for Fall 2016
Sharkskin, Lush Meadow, Potter's Clay, Spicy Mustard, and Riverside
All these colors definitely announce Fall!
My personal favorite is Bodacious – Pantone 17-3240 (#5 on top row below).
It sends me back to the lovely Radiant Orchid of a couple of years ago.
But truly, most of these colors will work together beautifully straight thru spring.
Which is your favorite?

My beloved grands having fun at Mimi's - can't they stay little forever?
Next week my precious GS and I will celebrate our birthdays - he will be in dinosaur heaven (he is so easy to shop for!) and I will make a Jurassic Park cake that he helps decorate. Messy fun will be had by all !! (Picture from several years ago)

Pink isn't just a color ~ it's an attitude!

~ All items purchased by me ~
Linking up with these fabulous bloggers here